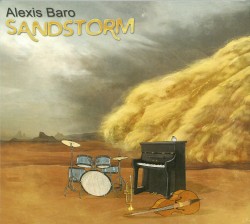 Sandstorm
Alexis Baro
G-THREE GT0015 (alexisbaro.com)
Released in August on G-THREE Music, Sandstorm is the newest album from Havana-born, Toronto-based trumpet player Alexis Baro. An accomplished musician, Baro's résumé includes performances with a wide range of artists, such as saxophonist Paquito D'Rivera, organist Joey DeFrancesco and producer David Foster. Inspired by Baro's experiences living in a big city, Sandstorm is framed as a celebration of "the vibrant energy of diverse cultures living together in a rapidly changing urban environment." Nine of the album's eleven compositions are Baro's; of the remaining two, one is a reworking of the traditional Latin American lullaby Drume Negrita, and the other is a cover of The Beatles' Come Together. In addition to Baro, Sandstorm features keyboardists Jeremy Ledbetter and Anthony Brancati, bassists Yoser Rodriguez, Roberto Riveron and Andrew Stewart, and drummers Amhed Mitchel, Anthony Daniel, and Larnell Lewis.
After an exploratory, searching intro, in which Baro demonstrates the range of his melodic and timbral control, Sandstorm's hard-driving title track begins with a repeated 5/8 motif that is woven throughout the song. The B Side of A, one of the album's funkier entries, sees Baro playing with a filtered, electric trumpet sound while trading with Brancati, with a strong drum solo from Lewis. Baro's trumpet glides smoothly atop the programmed drums in Drume Negrita, and Come Together is arranged with a sophisticated, understated groove. Central to Sandstorm is Baro's sound: warm, articulate and confident in both the lower and upper registers, reassuring and surprising throughout the album.