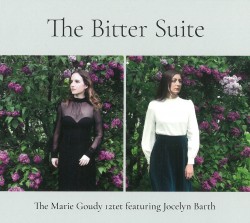 The Bitter Suite
Marie Goudy 12tet featuring Jocelyn Barth
Independent (mariegoudy.com)
Haunting, poetic, imaginative – The Bitter Suite grabs the listener right away and doesn't let go. A love story told through five movements, each chapter of the story connected with a particular season, a song cycle that is enchanting in atmosphere and brimming with emotion.
The Bitter Suite feels intimate, like late night confessions, yet universal in meaning. Written and arranged by Marie Goudy, it has an interestingly varied musical language – elements of jazz and mariachi styles combine very well here. Goudy's musical world is gentle and transcendent but she is fiery in her expression as a composer and as a trumpet player. The large jazz ensemble lays out harmonies and rhythms across the board, creating a mellow landscape for engaging solos in each piece. But what really links the pieces together is the mesmerizing voice and phrasing of the vocalist Jocelyn Barth.
The album opens with Goudy's dreamy solo trumpet Intro. Playful Son for Sunshine and passionate Autumn's Embrace follow in its footsteps, each different in expression but both influenced with mariachi rhythms and style. Winter is simply beautiful, a story about the world covered in snow and a heartbreak. The suite itself concludes with Lilacs, a classy tune with a melancholy feel. Although the last piece on the album, Remember the Days, does not belong to the suite (it is an ode to a cherished friendship), it makes for a lovely postscript.