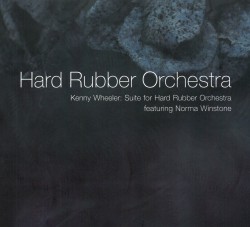 Kenny Wheeler: Suite for Hard Rubber Orchestra
Hard Rubber Orchestra featuring Norma Winstone
Justin Time JTR 8614-2 (justin-time.com)
Though Kenny Wheeler left Canada for England in 1952, the distinguished composer/ trumpeter/ flugelhornist always maintained close relations with musicians and audiences here. In 2013, the year before Wheeler's death, composer (and sometime trumpeter) John Korsrud commissioned Wheeler to compose a suite for Vancouver's Hard Rubber Orchestra, an 18-member group Korsrud has been leading since 1990, debuting Canadian works from jazz to new music. Wheeler provided five movements, and Korsrud has sequenced them, adding improvised interludes.
The music is distinctively Wheeler's, bringing a Hindemith-like richness and clarity to the big-band format to evoke joy and wistfulness, celebration and memory, then shading and mingling them with sometimes astonishing harmonic nuance. Singer Norma Winstone, a longtime collaborator, is an essential component of the orchestra, her wordless parts soaring through the massed brass and saxophones.
The music, too, is a celebration of the subtlety and art that Wheeler brought to the trumpet: two orchestral movements feature Mike Herriott, while the brief and lustrous interludes have Brad Turner improvising duets with bassist André Lachance, pianist Chris Gestrin and guitarist Ron Samworth. Among other soloists, tenor saxophonist Eli Bennett is aggressively creative on Movement I.
The quality of the music is such that one doesn't mourn, but instead celebrates Wheeler's continuing presence – a national legacy that now stretches from Nova Scotia and the Maritime Jazz Orchestra's Siren's Song to the University of Toronto Jazz Orchestra's Sweet Ruby Suite to this suite for Vancouver's Hard Rubber Orchestra.