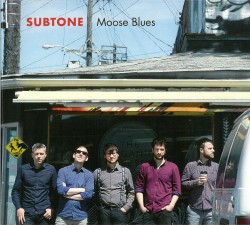 Moose Blues
Subtone
Laika Records 3510366.2 (subtone.eu)
Moose Blues is the fifth album from the German jazz quintet Subtone, a collective whose members include Malte Dürrschnabel (reeds), Magnus Schriefl (trumpet), Matthias Pichler (bass), Peter Gall (drums), and Florian Hoefner, a pianist who, after years working in New York, now teaches at Memorial University in Newfoundland. Released on the German label Laika Records, and recorded following a Subtone tour of Canada earlier this year, Moose Blues is a tour diary of sorts: a reflection on time spent travelling throughout Canada, during which the group's music was developed and refined.
Moose Blues begins with the Hoefner-penned Orbit, a propulsive, groove-based song featuring confident solos from Hoefner and Schriefl, bookended by dark, texturally lush sections. E-Nuts, a Schriefl composition, is a strong, swinging entry, with tight melodic playing from Schriefl and Dürrschnabel, and a concise, interesting bass solo from Pichler. Gall's Alphabet City is a simmering, mixed-meter affair that showcases the group's ability to juxtapose intensity and shifting dynamic levels, and Upside Up, written by Hoefner, is a sophisticated, bluesy 3/4 song, with satisfying playing both from the rhythm section and from the horns.
Subtone is a group with firm roots in the tradition of artists such as Lee Morgan, and the album's final track – the titular Moose Blues – is as close as they get to a conventional hard bop aesthetic. The real charm of Subtone, however, is their ability to synthesize the performance practices of hard bop – strong rhythm section playing, tight horn lines, bluesy flourishes – with modern harmonic, melodic, and rhythmic ideas.