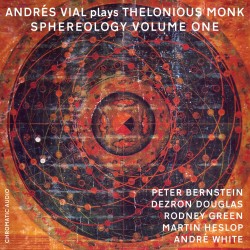 Plays Thelonious Monk: Sphereology Volume One
Andrés Vial
Chromatic Audio Chroma 111417 (chromatic-audio.com)
2017 marked Thelonious Sphere Monk's centenary, but 2018 seems to be the year it's commemorated. There's guitarist Miles Okazaki's brilliant six-album digital set with all 70 of Monk's compositions played solo, and pianist Frank Kimbrough is releasing quartet versions of them on six CDs (each adding three tunes to Monk's Casino, Alexander von Schlippenbach's 2005 journey through the complete works). Montreal pianist Andrés Vial is also taking on Monk repertoire, though this Volume One gives no indication of how far he might pursue the impulse.
A crisp, inventive pianist, Vial here leads two quartets with different rhythm sections, one New York-based, one Montreal, both good. He emphasizes less-played repertoire from Monk's canon and does so hand-in-glove with guitarist Peter Bernstein. Both treat Monk's distinctive rhythmic and harmonic language with respect, though Bernstein's warm guitar tone sometimes softens the edges. However, they retain Monk's essential quality, which might be characterized as divergence, an ability to embody contraries. Thus Bernstein manages to be both oblique and funky on the opening Bluehawk, while both he and Vial are cheerfully dissonant on Green Chimneys.
The approach is often reflective, never more so than on Ask Me Now, a pleasantly pensive duet by Vial and Bernstein, and the bluesy, late night quality extends to Light Blue. New York bassist Dezron Douglas contributes structuralist bass solos while Rodney Green recalls the melodic drumming of Monk associate Frankie Dunlop; Montrealers Martin Heslop and André White shine on the extended Functional.