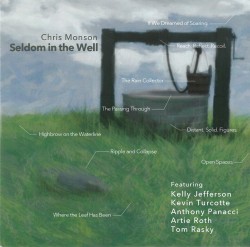 Seldom in the Well
Chris Monson
Independent (chrismonson.bandcamp.com)
Chris Monson's debut album, Seldom in the Well, showcases his original jazz compositions while maintaining the stylish 60s feel. At times it is reminiscent of Blue Note records from that period, with a subtle rhythmic drive and touch of sultriness. It also features a stellar sextet – Monson on guitar, Kelly Jefferson on tenor saxophone, Kevin Turcotte on trumpet/flugelhorn, Anthony Panacci on piano, Artie Roth on acoustic bass and Tom Rasky on drums. Monson's early roots in progressive rock are not necessarily obvious here; rather, his arrangements are an intricate map of sounds and stories.
The album opens with the rich-sounding Where the Leaf Has Been, a sonic hint of what is to come. That hint is revealed perfectly in my favourite tune on the album, Distant. Solid. Figures. As I was listening to it with my headphones, I was immersed in the sounds constantly moving from the left to the right in some sections – it was incredibly intimate and engaging. The Passing Through finally showcases Monson's funky guitar grooves and his taste for understated melodies. Although he often takes a backseat, allowing each of his fellow musicians to shine, Monson maintains constant rhythmic conversations with the piano. As a matter of fact, many of the subtle rhythm hooks are this album's gems. If We Dreamed of Soaring features another jewel – the bowed bass solo, so unexpected and so beautiful that it makes this music come full circle.
Seldom in the Well has a combination of aural density and airiness that appeals to both seasoned jazz listeners and novices in the genre. Recommended.