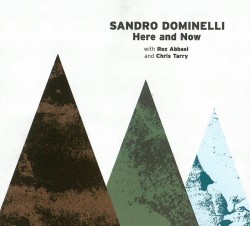 Here and Now
Sandro Dominelli; Rez Abbesi; Chris Tarry
Chronograph Records CR-067 (chronographrecords.com)
Here and Now, a new album from Edmonton-based drummer/bandleader Sandro Dominelli, is something of an international affair. Recorded in New Jersey, it employs the talents of electric bassist Chris Tarry, a Canadian expat now based in the Garden State, and guitarist Rez Abbasi, a Manhattanite by way of California and Pakistan. Such time-zone-crossing projects, even when well executed, can sometimes suffer from a lack of intimacy, but thankfully, this is not an issue for Here and Now. Released this summer on Alberta's Chronograph Records, Dominelli's new album is a follow-up to The Alvo Sessions, which also features Tarry and Abbasi, released independently in 2010.
Here and Now begins with the title track, a medium-tempo, straight-eighths song that showcases the group's well-developed chemistry, with compelling solo moments from Abbasi and Dominelli. The swinging D.H., written in tribute to bassist Dave Holland, balances rhythmic melodies with moments of eerie harmony. This vibe is ramped up on Through the Trees, a 16-bar blues that sees Abbasi making full use of his textural capabilities. Alternative Facts is a funky, backbeat-driven odd-metre song, with a powerful, overdriven solo from Abbasi. Exodus (the theme from the film of the same name, composed by Ernest Gold), the album's last track, gives Dominelli a chance to show off his brushwork.
Here and Now is worth a listen because Tarry, Abbasi and Dominelli are all strong players with interesting instrumental voices; it is worth a second listen because the trio succeeds in creating a meaningful, unique group dynamic.