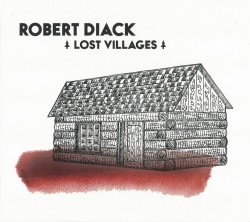 Lost Villages
Robert Diack
Independent (robertdiack.com)
Lost Villages, a new album from drummer/bandleader Robert Diack, is named for a collection of nine communities in Southern Ontario that were permanently depopulated and submerged in 1958 as part of the construction of the Saint Lawrence Seaway. With song titles such as Displace, Bittered and Placed, the album takes a certain literary influence from the Lost Villages, but the metaphor seems to run deeper: from the eerie, atmospheric opening notes of Displace, the album's first track, it becomes apparent that Diack's goal is to synthesize his disparate influences into a unique musical language that evokes – much like a glimpse of underwater ruins – a compelling vision greater than the sum of its parts.
While Lost Villages doesn't restrict itself to the traditional, essentially acoustic format of a conventional jazz recording, it is a quartet album: bassist Brandon Davis, guitarist Patrick O'Reilly and pianist Jacob Thompson round out the group. O'Reilly often takes on the lead melodic role, as in Pluterperfect, which features an adventurous, overdriven guitar solo on a tightly controlled 11/8 vamp. Other noteworthy tracks include the laid-back, 4/4 Idyll, which features Thompson, whose articulate, clear playing serves as an effective foil for O'Reilly, and Sap, the album's longest (and probably most open) song, in which all four band members gradually layer in new textures before Davis and O'Reilly play a short, repeated melody that ends the tune. Overall, Lost Villages offers an interesting, worthwhile listen, and functions as a thoughtful, unexpected bandleader debut for Diack.