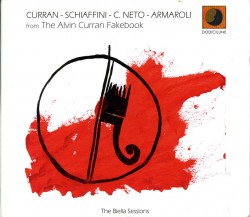 From The Alvin Curran Fakebook
Curran; Schiaffini; C. Neto; Armaroli
Dodicilune Dischi Ed 886 (dodicilune.it)
Turning the use of a "fakebook" on its head, instead of improvising on famous standards' lead sheets, Rome-based American composer Alvin Curran and his Italian associates use 13 of his compositions as the basis for creativity. Known for his pioneering electroacoustic soundscapes for Musica Elettronica Viva, Curran, plus trombonist Giancarlo Schiaffini, multi-reedist Alipio C Neto, vibist/percussionist Sergio Armaroli, bassist Marcello Testa and drummer Nicola Stranieri, creates two CDs of music that sounds both aleatoric and arranged.
Although the brief final tracks on CD2 could be performed by a lounge combo, the disc's crucial concepts occur when the first CD foregrounds the composer's talents on computer (Max'd Out) and piano (Why Is This Night Different from All Other Nights). Electronic oscillations and circular-breathed saxophone sluices on Max'd Out contrast with plunger trombone vibrations and bell-shaking tones until climaxing as a balanced narrative. On the second tune, wolf-whistle-like reed lines and theatrical keyboard cadenzas are not only expanded, with soothing trombone burrs and delicate vibes' resonation, but also dissembled, with granular synthesis that dissects pre-recorded voices into backwards-moving mumble and mysterious textures.
These machine-instrument explorations, plus other unique challenges, are resolved on the over-33-minute The Answer Is. With vibraphone pings maintaining the melody, computer crackles, tailgate trombone and gibberish vocal mutations move aside, as polyphonic cacophony or perfectly performed cool jazz are tried on for size then regularized into a tonally fluctuating finale. Technical mastery and dazzling sonic surprise are never faked on this session.