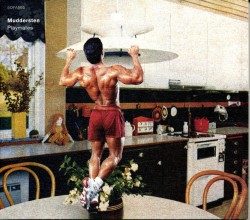 Playmates
Muddersten
SOFA 565 (sofamusic.no)
Despite the photo of a muscle man flexing on the CD cover, musical exercises by the Danish trio Muddersten are anything but broad and powerful. In fact, microtonal tubaist/electronic manipulator Martin Taxt, Håvard Volden, who plays guitar and tape loops, and Henrik Olsson, whose equipment includes objects, piezo and friction, wouldn't reach the podium in an artistic weight-lifting contest. Instead the band's programmed continuum, distant object lacerations and intermittent blares add up to featherweight strategies that subtly score, literally without fanfare.
With an electronic ostinato perpetually bonding sequences from below, air whooshes and metronomic friction occasionally minutely recede so that guitar flanges and twangs or brass bites and whistles can be heard. Watery, baleful and somewhat threatening, the tracks' challenges are met and enlivened as near-static tones suddenly open up to reveal unique juddering counterpoint. Seemingly plodding, in spite of many short episodes of commotion, compared to noisier, flashier programs, Muddersten ultimately impresses by the realization that the trio's bursts of musical quality are presented in such a way that they can be appropriately savoured. Plus no matter how many ring-modular-like gongs, menacing object scratches or distanced brass buzzes appear and vanish along the way; the tale of these Playmates never ceases long enough to disrupt a stable chronology that also highlights a strapping contest of timbral strength.