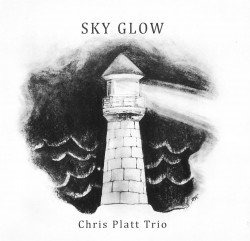 Sky Glow
Chris Platt Trio
Independent (chrisplattmusic.ca)
Released internationally in March 2018, guitarist Chris Platt's debut album is a tight, well-crafted collection of seven original compositions, performed in guitar trio format. Joining Platt are bassist Phill Albert and drummer Robin Claxton, both of whom, like Platt, are graduates of the University of Toronto's Jazz Studies program. Both Albert and Claxton provide intelligent, engaging support throughout, with compelling solo moments of their own.
Sky Glow has firm roots in the guitar trio tradition. The album is anchored by Platt's ligneous archtop tone, and for good reason: his sound is warm and expressive, and synthesizes some of the most pleasant qualities of electric and acoustic guitar playing. The guitar is strongly present in both channels, and is generally foregrounded, allowing the finer details of articulation to be heard throughout the album. While this might become overwhelming with a different player, Platt is sensitive enough that the choice works well. The overall effect, as on the straight-eighths, bossa-tinged title track, is that the deep texture of the guitar provides the backdrop against which the action of the music takes place, even during moments of double-time single-note soloing.
Beyond the title track, notable selections include the contemplative, 3/4 I Like The Sad Ones, the raucous Platter and the beautiful When You're Not Here, a solo piece whose pairing of harmonic sophistication and hollow-body warmth succinctly distills Sky Glow's charming ethos.