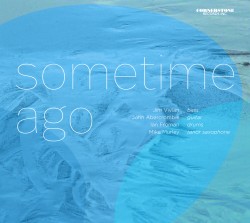 Sometime Ago
Jim Vivian; John Abercrombie; Ian Froman; Mike Murley
Cornerstone Records (cornerstonerecords.com)
John Abercrombie, who passed away at 72 in 2017, was one of the finest jazz guitarists of his generation. He possessed a consummate lyricism and harmonic subtlety that could stand comparison with the guitarists who initially influenced him, like Jim Hall, while his thumb picking, derived from Wes Montgomery, added a warm, personal sound. This session, led by bassist Jim Vivian, was recorded in Toronto in 2016 following a series of performances at Jazz Bistro. Five of the tracks are trio performances with drummer Ian Froman; three tracks add tenor saxophonist Mike Murley.
It's eminently listenable music, low-key modern jazz that possesses depths and details that reward close attention. Abercrombie, Vivian and Froman weave complex webs of subtly inflected lines, often on jazz standards. The set opens with Everything I Love, a relatively obscure Cole Porter song favoured by jazz musicians – including Bill Evans, whose interactive trio conception informs this group, with Vivian and Froman busy in a positive way. Dave Brubeck's In Your Own Sweet Way gets a similar, slightly abstracted treatment, while Miles Davis' Nardis builds from its spare and slightly exotic melody to inspired scalar improvisation.
Vivian comes to the fore on some imaginative repertoire choices, like Petty Harbour Bait Skiff, a song commemorating a nautical disaster from his native Newfoundland, and the Argentinian Sergio Mihanovich's limpidly beautiful title track. Mike Murley fits in perfectly on the dancing four-way improvisation of Abercrombie's Another Ralph's and Vivian's tuneful Stellaluria.