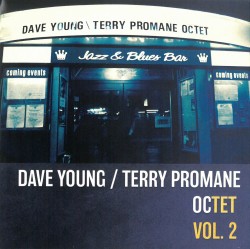 Octet Vol. 2
Dave Young/Terry Promane Octet
Modica Music (daveyoung.ca)
Following the success of their first album, Octet Vol. 1, the Dave Young/Terry Promane Octet is back with Vol. 2, a collection of ten songs arranged by group co-leaders Young (bass) and Promane (trombone). A standard bearer for the Canadian large ensemble tradition of Phil Nimmons and Rob McConnell, the DYTP 8 features some of Toronto's most prominent and well-established musicians, including Kevin Turcotte (trumpet/flugelhorn), Vern Dorge (alto saxophone), Mike Murley (tenor saxophone), Perry White (baritone saxophone), Dave Restivo (piano) and Terry Clarke (drums), all of whom deliver memorable, top-tier performances.
For the uninitiated, the DYTP 8 functions more like a big band than it does as a traditional combo-style group. Listeners can expect to hear clear melodic statements, thoughtfully voiced horn backgrounds, and punchy rhythm section playing, all of which are present on the Promane-arranged Oh, What A Beautiful Morning, the album's first track. Young's evocative arrangement of Duke Ellington's Sound of Love is another winning moment, as is the Murley original Can't You See, a bouncy, medium-up-tempo bebop tune that features solos from Young, Promane and Murley, in addition to athletic contributions from the whole band, with special mention to drummer Clarke on Promane's solo.
Highly recommended both to large-ensemble aficionados and newcomers to the genre, Octet Vol. 2 is engaging from start to finish, with a strong performance from an experienced band that sounds bigger and more exciting than many groups twice its size.