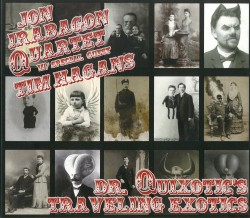 Dr. Quixotic's Traveling Exotics
Jon Irabagon Quartet with Tim Hagans
Irabbagist Records 010 (jonirabagon.com)
Saxophonist Jon Irabagon rose to prominence in Mostly Other People Do the Killing, the eclectic, ironic, virtuosic band that has redefined the parameters of jazz with post-modern pastiche since 2003. His current projects stretch from the modern mainstream to solo sopranino concerts. This quartet is rooted in post-bop (the 60s Jazz Messengers and tenor saxophonists Wayne Shorter and Joe Henderson: riffs, vamps, ostinatos, modes) but has its own approach, with a breadth that extends comfortably forward.
Irabagon sticks to his tenor here, and his big sound and hard-edged authority are apparent from his introduction to The Demon Barber of Fleet Week (the CD has a medicine/freak show theme), focusing the coiled energy of a working band, recorded while on tour in Buenos Aires. Pianist Luis Perdomo, bassist Yasushi Nakamura and drummer Rudy Royston all exude the same intense command of a complex language.
Veteran trumpeter Tim Hagans (he first recorded in 1974) joins the group on several tracks, a restrained complement to the leader's bustle. He's at his finest on Pretty like North Dakota, from the keening, Miles-like muted playing to the dark, brassy burr of his open sound. The multi-dimensional ballad demonstrates different sides of each member: Perdomo's translucent grace, Nakamura's flowing lyricism and Royston's orchestral drama. Irabagon plays booting tenor, building from blues roots to Coltrane-like flurries, before he and Hagans conclude with an improvised dialogue that crowns both the 15-minute tune and the CD as a whole.