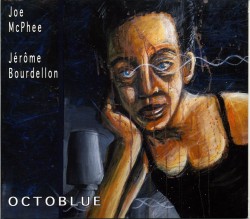 Octoblue
Joe McPhee; Jérôme Bourdellon
Label Usine l.u. 2016 (bourdellon.com)
American Joe McPhee has pursued an itinerant improvisers' path since the mid-1960s; Octoblue is another of his significant discs for several reasons. Not only is McPhee's versatility matched by France's Jérôme Bourdellon, who plays C, bass and contrabass flutes, piccolo and bass clarinet, but McPhee's expressiveness on clarinet and pocket trumpet is extended to toy piano, singing and bubbling water(!).
Switching among instruments, the two add the unexpected to the exposition throughout the CD. Deep Sea Dancers, for example, is a mini-suite in itself. Moving through plunger trumpet growls, whale-like sounds from the contrabass flute and dual key percussion, further elaborations include shrill brass whistles and reed tongue stops, with the finale half-valve brass extensions steadied by foot-tapping bass flute pacing. With Bourdellon's woody clarinet as stop-time accompaniment, McPhee's melismatic blues singing on the title tune is Ray Charles-like (if somewhat coarser), while still communicating profound sentiments like "freedom is a work in progress."
Conversely, Across the Water reaches the zenith of atonality, as water-burbled mouthpiece timbres are stretched into strangled trumpet blasts contrasted with airy flute puffs, as both horns quicken to elevated pitches without losing the narrative. After McPhee unexpectedly introduces a toy piano to honour the deceased keyboardist on Tribute to Borah Bergmann, and a track like On the Way to History melds loping clarinet tones and graceful flute symmetry, both players expose almost every mood and modulation. For McPhee, itinerant is a synonym for inventiveness, as he demonstrates his cooperative skills at every performance.