Although there were vogues at points from the 1930s to the 1960s for stride and boogie-woogie keyboard teams, piano duos have never been as prevalent in jazz as in so-called classical music, starting in the late 18th century. More recently, however, with keyboardists cognizant of both notated and improvised music and with standard performance configurations liberated, duo piano pieces have become more common in exploratory jazz, as these sessions attest.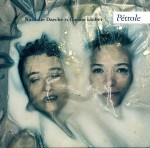 The closest link to the classic(al) duo concept is piano duo Pétrole's Créations raffinées pour deux pianos [Refined Pieces for Two Pianos] (Pépin & Plume P&P 005 pepinetplume.com). The stated aim of French pianists Nathalie Darche and Carine Llobet (the former known as a jazz player and the latter specializing in chamber music) is to renew the duo piano repertoire by playing pieces by younger jazz composers. Tilts in varied directions enliven the interpretations. This is most obvious on Les pensées offshore d'Arthur, the first and longest piece. Relaxed romanticism, the adagio sequences are only slightly transformed by quick jazz-like modulations at the end. The obverse is evident on Pétrole Interlude, mostly concerned with vibrating the darkest parts of the instruments' action and soundboard. Tremolo torque spreads the interpretation so that it's mesmerizing as well as kinetic, with echoes created by four hands pumping at once. These are the CD's parameters; the players' high level of coordination allows them to slide nearly effortlessly from neo-classical, almost sugary passages that match crystalline fingering with front-parlour-like sentimentality, to bright, modernist sequences, where theme depiction is both lively and agitated. Overlapping cadenzas constantly move the melody delineation and tune decoration from one instrument to the other.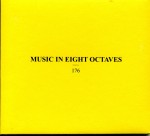 Meanwhile, tremolo syncopation and overlapping piano percussiveness are taken to extremes without swing on Music in Eight Octaves (Immediata IMMO 11 anthonypateras.com), by two Australians performing as the duo 176. Chris Abrahams is a member of The Necks trio, and Anthony Pateras is involved with electroacoustic and multi-disciplinary projects. If the preceding disc could be compared to a volume of tasteful poetry, then this one is a novel, with colourful melodrama on every page. One super-fast and aggressive 50-minute track, Music in Eight Octaves is the result of the two recording four takes in each octave of the piano, which Pateras then multi-tracked and superimposed over each other. Overwrought and almost opaque textures call to mind Conlon Nancarrow player piano studies and George Antheil's original Ballet Mécanique for synchronized player pianos. Besides the sinewy speed of this performance, which rattles through pan-tonality and double counterpoint, higher pitches suggest marimba timbres. Transitions in the piece are only obvious when both pianists cease playing in either the higher- or lower-pitched keys, leaving some breathing room, which quickly upsurges again to almost unyielding friction. Consistently pulse-quickening, the effects mash together Cecil Taylor-like kinetics and Oscar Peterson-like comprehension so that the combination of tempo changes and thickened discord becomes exhausting as well as exhilarating. Following its own logic, the session never climaxes; it just stops.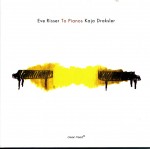 The next two CDs were recorded in concert: To Pianos (Clean Feed CF 448 CD cleanfeedrecords.com) with Paris-based Eve Risser and her Slovenian associate Kaja Draksler; and Octopus (Pyroclastic Records PR 03 krisdavis.net), featuring Canadian Kris Davis and American Craig Taborn. Interestingly enough the eight tracks on the first disc and six on the other are split between compositions and improvisations, except for a (different) Carla Bley tune on each, and Davis and Taborn also assaying Sun Ra's Love in Outer Space. By contrast, the Risser-Draksler duo begins the concert in inner space, with ringing bell-like reflections, then diffuses the program in double counterpoint with ambulatory or more settled creations. Among the improvisations, To Pianists is notable for inner-string plucks and e-bow vibrations which play up the instruments' percussiveness; inchoate drones and wood-echoing thumps almost turning the piano into 88 tuned drums. Unlike the inconclusive scene-setting of that track however, To Women's key rattling and stopped strings, filtered through changing tempos, moves a hushed interaction from stiff to swinging. The duo's playful mash-up of Bley's Walking Woman and Batterie, with swelling variations on the theme(s), adds a springy sheen to the proceedings. Detours into funereal pacing and key slapping affect some other tunes, but To You, the concert encore, finds the two synthesizing their balanced approach. This moderated, meditative piece is both expressive and energetic, with sympathy as well as strength in evidence.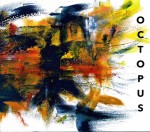 Davis and Taborn work through material recorded at three concerts, ranging from the equivalent of Risser/Draksler's supportive phrase-making to Abrahams/Pateras' keyboard fluctuations, and a mid-course involving as many instances of adaptation as advances. Prone to Bill Evans-like meditations elsewhere, they demonstrate on tracks like the Davis-composed Ossining and Chatterbox their capacity for popping and plucking sequences where, by the tunes' completion, harder voicing takes its place alongside a connective tonal blanket. Especially telling is the latter, with syncopation shifting between the two until singular paths evolve into unison tremolo and a final dual crescendo. Bley's Sing Me Softly of the Blues mixed with Taborn's Interruptions Two is supple and effervescent, with the piece becoming brighter as it evolves and the countermelody slyly appearing in a darker tempo and then transitioning without interruption into a more genteel theme before backing into a simple ending as contrasting expositions are joined. Played with more sweetness than the original, with tolling arpeggios and line extensions, the Ra composition almost becomes a lullaby. Once the melody is delineated, however, key clipping returns the dynamic upsurge.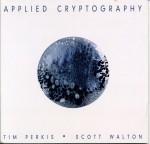 Ra's cosmic explorations might serve as a starting point on Applied Cryptography (pfMentum CD 106 pfmentum.com) since Tim Perkis' electronics are the foil to the piano of Scott Walton. During the 11 tracks, ranging in length from 90 seconds to almost six minutes, the strategy of the California-based players involves the pianist pinpointing a formalist theme and Perkis' processed whooshes and burbles advancing it in unexpected directions. That's advancing, not accompanying, though. So while the Perkis/Walton concept may appear somewhat celestial compared to the other duos' terrestrial expositions, both players' creativity is as evenly matched as the duo work on the other discs. On a track such as Naked Egg, for instance, what begins with Walton's precise narrative meeting unruly buzzes and signal-processed flanges from the electronics soon changes to treble frequencies from the piano that elaborate the theme in the bass clef, as Perkis' twangs and chirps expand the sound palette. Conversely, Perkis' elaboration of pressurized sound envelopes on Subliminal Channel and other tracks is framed with key rattles and modulated glissandi from Walton. With the pianist predisposed to concentrate on the instrument's lyre in order to either pluck harpsichord-like tones (as on Possible Objects B) or bellicose scratches and stops (as on Normal Form), the subsequent musical drama is evoked as much from Walton's dynamic movements as the blurry textures from Perkis' laptop-directed machine. By the climactic Blind Signature, as electronic drones fluctuate, kinetic key flourishes allow Walton to interject timbres with the same intensity, adding up to a process where it's impossible to imagine the incisive tune expressed without droning oscillations or without the clear linear process from the piano.
To be memorable, a keyboard duo must blend exploratory concepts so that the two instruments are nearly indistinguishable, while maintaining individual identification. Each of these duos demonstrates that this can be done.