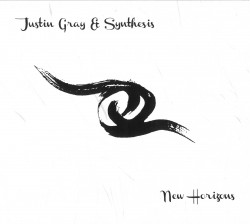 New Horizons
Justin Gray & Synthesis
Independent (justingraysynthesis.com)
New Horizons, the debut album from Justin Gray and Synthesis, features a large ensemble – 19 musicians total, over the album's nine tracks – playing both Western and Indian classical instruments. While this unique instrumentation helps to realize the stylistic fusion at the heart of New Horizons, the album's distinct sound also comes from Gray's performance on the bass veena, a custom string instrument that Gray designed and co-created.
The spirit of fusion – or synthesis, to borrow the album's own vernacular – extends to the performances on New Horizons' strong, balanced tracks. Highlights include the brooding, contemplative Eventide, which features beautiful bansuri playing from Steve Gorn, and Unity, with a winning contribution from guitarist Joy Anandasivam. The backbeat-heavy Rise is perhaps the most overtly rock-influenced piece, with confident solos both from Gray and from guitarist Joel Schwartz.
Along with rock-solid percussion playing – most notably from drummer Derek Gray and tabla player Ed Hanley – the sound of the bass veena anchors the album. On songs like New Horizons and Migration, on which Gray plays the melody, the effect is compelling, as the bass veena, while sharing some obvious similarities with the fretless electric bass and Indian classical string instruments like the sarod, has a deep, nasal, melodic sound that is all its own. The same spirit of invention applies to New Horizons as a whole: it is an album that makes no mystery of its influences, choosing instead to celebrate them in a beautiful, fully formed vision that transcends its own composite parts.