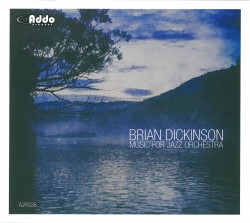 Music for Jazz Orchestra
Brian Dickinson
Addo Records AJR036 (briandickinson.ca)
Music for Jazz Orchestra, a new big band album on Addo Records from pianist/bandleader/composer Brian Dickinson, is in part a tribute, although not a tribute album. The disc is anchored by The Gentle Giant Suite, an original three-part homage to the late Kenny Wheeler, written following Wheeler's passing in the fall of 2014. Dickinson and Wheeler share a long history, collaborating both with other musicians (including drummer Joe LaBarbera and vocalist Norma Winstone) and on the duo album Still Waters, recorded in 1998 at Glenn Gould Studio in Toronto.
Dickinson's exemplary compositional and arranging skills – which are on full display throughout The Gentle Giant Suite – are matched by his sophisticated piano playing, both as a soloist and as a member of the excellent rhythm section, which features bassist Jim Vivian, drummer Ted Warren, and guitarist Sam Dickinson, who shares his father's harmonic maturity. Beyond the suite, the medium-slow 3/4 Gil (written for Gil Evans) is a beautiful, texturally rich piece that showcases the sensitivity of the horn section; it also features compelling solos from Brian Dickinson, saxophonist Kelly Jefferson, trumpeter Kevin Turcotte, and an especially strong showing from Sam Dickinson. Orion, written for Wayne Shorter, is perhaps the album's most bombastic offering – the ferocious shout chorus alone is worth the price of admission – but it also contains a powerful, perfectly paced piano solo from Dickinson. Overall, an excellent album: confident, nuanced and captivating from beat one.