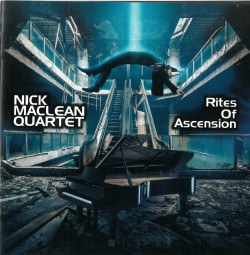 Rites of Ascension
Nick Maclean Quartet
Browntasauras Records NCC-1701K (nicholasmaclean.com)
Rites of Ascension, the debut album from the Nick Maclean Quartet, is a tribute to Herbie Hancock's elemental 1960s Blue Note era recordings, and a daring original musical statement on its own. Formed in 2016 under the leadership of Maclean, the group salutes the great improvisers while generating original tunes that are crisp and cognizant.
These four musicians – Maclean (piano), Brownman Ali (trumpet), Jesse Dietschi (acoustic bass) and Tyler Goertzen (drums) – have a great synergy and drive, and some serious chops. Their renditions of Hancock's four classics are full of energy and forward momentum while managing to retain the unhurried character of the earlier compositions. The original tunes (six by Maclean and one by Ali) are both intimate and global, touching upon themes from mythology and history to personal growth and the critical mind. Maclean's creative mind and aesthetics are obvious in every aspect of this album, his piano solos both lyrical and invigorating, supported by a stellar rhythm section. The album features fiercely strong trumpet solos, indicative of Freddie Hubbard's style at times and distinctively unique.
Elasticity of Time and Space is a standout – I loved the opening theme, metric modulations and tempo changes, as well as playfully robust solos. Feral Serenity, a haunting and intimate ballad, unfolds a soulful bass and piano exchange. The liner notes, describing each tune in depth, allow the listener to peek behind the curtains of the album in the making.