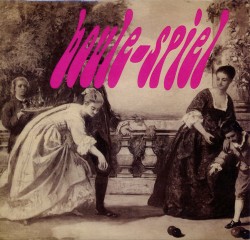 Boule Spiel
Magda Mayas; Éric Normand; Pierre-Yves Martel
Tour de Bras TDB 9025 (tourdebras.com)
An enthralling sonic landscape encompassing mercurial harshness, unexpected contours and cultivated accents, Boule Spiel is an affirmation of the textural cooperation among German pianist Magda Mayas and two Québécois musicians, electric bassist Éric Normand of Rimouski, where the session was recorded, and Montreal viola da gamba player Pierre-Yves Martel. Those instruments, along with "feedback, snare drum, objects and speaker" are the only sound-makers listed. But the minimalist tones which blend to create this two-track journey, including keening whistles, string plucks, bell peals, percussive thumps, feedback flutters and oscillated hums, not only make individual attribution unlikely, but at the same time highlight the constant unexpected shifts within the understated unrolling sequences.
Emphasizing atmosphere over narrative or instrumental virtuosity, the trio's blended output, especially on the more-than-30-minute introductory Lancer, contains enough processed drones, electric bass stops, keyboard patterning and inner-piano-string plucks to vary the aural scenery enough to create a sense of harmonic and rhythmic progress, but without jarring interludes. By the time the concluding Spiegelbildauflösung or "mirror image resolution" fades away, the three confirm how carefully each can reflect the others' cerebral improvisations. An enlightened sound journey has been reflected and completed, but the details of what transpired individually are impossible to accurately analyze.