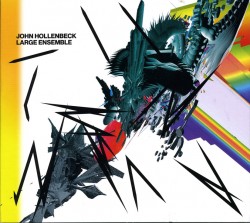 All Can Work
John Hollenbeck Large Ensemble
New Amsterdam NWAM094 (newamrecords.com)
Drummer John Hollenbeck convened 20 of New York's most accomplished improvisers to interpret his newest compositions and arrangements. Concerned mostly with the harmonic relationship among instrumental sections and textures which blend into pastel billows, Hollenbeck's conception is horizontal and flowing, with limits on solos. It's characterized by this kiss, composed for a Romeo and Juliet project, which embeds pianist Mat Mitchell's dynamic theme elaborations within a buoyant, sprightly narrative. That said, the introductory lud is built around multiple idiophone vibrations, cushioned by horn breaths that quickly draw you into Hollenbeck's multiple creations. The final track The Model, lifted from the repertory of German electronica band Kraftwerk, is light, bracing and wraps up the session with hints of a spirited I Love Paris-like vamp.
Still, the paramount performances salute two of the composer's deceased heroes. Kenny Wheeler is celebrated with a galloping arrangement of his Heyoke, where flugelhornist Matt Holman personifies Wheeler's expressiveness within waves of brass accompaniment even as trombonist Jacob Garchik's hairy outbursts confirm the arrangement's originality. Theo Bleckmann's wordless scatting adds distinct harmonies to Heyoke, but he's put to even better use on All Can Work, saluting New York teacher/big band trumpeter Laurie Fink. Treating phrases from Fink's humorous emails as found poetry, the sumptuous performance subtly builds up to an atmospheric crescendo, where the sung words and instrumental passages become virtually indistinguishable. With Hollenbeck now teaching at McGill, this CD is another reminder of the US' loss to Canada.