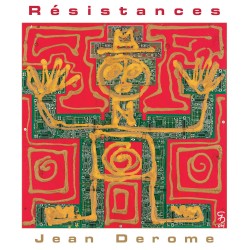 Résistances
Jean Derome
Ambiances Magnétiques AM 235 (actuellecd.com)
In 2015 at the annual Festival International de Musique Actuelle de Victoriaville, Jean Derome launched a year-long series of performances to mark his 60th year with Résistances, a singular composition inspired by the 60 cycles per second (Hz) frequency to which all North American electricity is tuned. This has rich metaphoric content for Derome, who imagines the constant tuning process of a continent, as well as Quebec's houses grounded through the plumbing to the St. Lawrence River. The orchestra here is tuned to 60Hz (including Jew's harp and kalimba).
The piece, exactly 60 minutes long, has 16 wildly varied segments, from the abstract Tableau with its de-tuned piano to the speaking-in-tongues boogaloo of Vamp, to the strange dislocations of Trois orchestres and the frantic trills and free expression of Turbine, virgule. In the process, the concept of "résistances" extends from electrical resistance to social and political resistance through wit, humour, manic juxtaposition, sheer lyricism and enthusiastic chaos – a work that extends beyond the concert hall to engage the environment and the power grid.
Derome eschews his usual saxophone and flutes for the conductor's role and such incidentals as a trumpet mouthpiece and an iPad. However, he has the 19-member Ensemble SuperMusique, an orchestra of fluent interpreters and improvisers playing traditional strings, analogue synthesizer, turntables, electric guitars and winds, with multiple drummers and bassists. Touching on virtually any sound available in contemporary music, Résistances is a bracing experience.