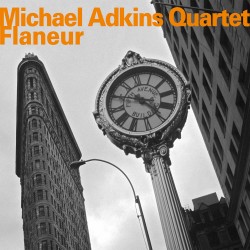 Flaneur
Michael Adkins Quartet
hatOLOGY 745 (hathut.com)
This CD presents two mysterious figures. One is the titular "flaneur," the wanderer in the city as an ideal of the artist, proposed by Charles Baudelaire in the 1860s as "reproducing the multiplicity of life and the flickering grace of all the elements of life." The second is Michael Adkins himself, a tenor saxophonist of stunning lyric gifts who left Ontario for New York City two decades ago, has recorded little and last toured Canada in 2013.
With little backstory, Adkins released Rotator on the Swiss label hatOLOGY in 2009 (full disclosure: I wrote the liner note). The CD achieved critical acclaim, but since then nothing has appeared until this release, a brilliant companion to Rotator, similarly recorded in 2008 with Adkins' compositions and the stellar support of pianist Russ Lossing, bassist Larry Grenadier and the late drummer Paul Motian, with whom Adkins sometimes performed.
As the title suggests, it's a stroll through the city, at medium-slow to medium tempos. There's a constant sense of edgy motion, but much of it is sideways rather than forward. The pulse is constant, but there's a subtle shuffle, as if no one has to address it directly. Adkins' sound is mobile, throatier than John Coltrane's with some of the upper frequencies shaved off. Further, Flaneur has a reflective depth and wisdom that resembles Coltrane's Crescent. Adkins' lines are consistently imaginative trails, at once focused and nuanced. It's work as profoundly elegiac as any a Canadian musician has produced.