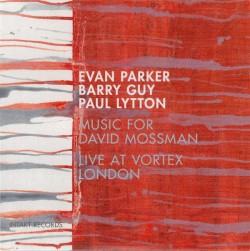 Music for David Mossman
Evan Parker; Barry Guy; Paul Lytton
Intakt Records CD 296 (intaktrec.ch)
If musical publicity ran even with musical quality, there would be no need to introduce the trio of saxophonist Evan Parker, bassist Barry Guy and drummer Paul Lytton, a group with individual ties running back to the late 1960s that were formalized in this trio in 1980. It might be convenient to think of them as one of the signal groups of European improvised music, British chapter, but their roots and ties run further back and further afield, to post-bop and free jazz and the stunning tenor-bass-drums trios led by Sonny Rollins and Albert Ayler.
The music may be tender or explosive (it would be easier to detect if it were slowed down), but its dominant texture is that of philosophical dialogue, a rapid conversation in which participants discourse while responding to the simultaneous intrusions of partners in the fray, who may quibble or launch counter-offensives, sending the first speaker to submit background material or new support for his previous theses. Contrarily, it's like a romantic Paris street fight among kickboxers and ballet dancers, or the sound of Tibetan throat singers polyphonically amused at a genuinely cosmic joke.
Are there individual highlights? Everywhere, including the first segment which begins with Lytton throwing down all the Latin and African drum patterns you might imagine at once, or the middle zone of the long third segment in which Guy sounds like a bass duet and Parker introduces a circular-breathing reverie.