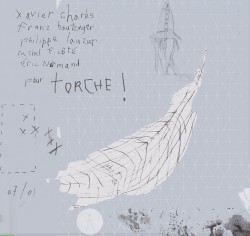 Torche!
Xavier Charles, Michel F Côté, Franz Hautzinger, Philippe Lauzier, Éric Normand
Tour de Bras TDB90024cd (tourdebras.com)
Bandleader, electric bassist and organizer Éric Normand has become a central figure in Canadian improvised music, working from his unlikely base in Rimouski, Quebec to develop a large ensemble, a local festival and regular programs of international visitors, activities that have led to international touring for his ensemble GGRIL. Torche! comes from a 2016 quintet tour in which Normand was joined by Montreal-based drummer Michel F Côté and bass clarinetist Philippe Lauzier along with two distinguished European visitors, French clarinetist Xavier Charles and German trumpeter Franz Hautzinger.
On paper that instrumentation might look like a jazz group, even a free jazz group, but the methodology is very different, with close listening the only directive, and the music's evolution timbral and textural rather than linear. Wind instruments are sometimes played with oscillator-like evenness, even when they're exploring complex multiphonics; the unfolding layers of sound can suggest an insect-dense forest or the compound sonic ambience of fluorescent lights, varied electronic appliances and of one's own internal processes.
Individual instrumental voices disappear into the collective whole, so that one is less aware of personalities, more involved in the movement of sound. The music feels orchestral rather than like a collection of individual voices, collective purpose creating work that is as profoundly selfless as it is involving. It's a highly evolved art, with the five musicians here shaping eight taut improvisations that are remarkably free of meanderings or those empty moments of merely getting acquainted.