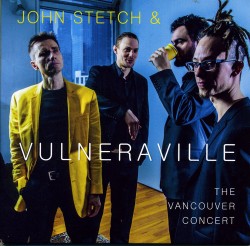 The Vancouver Concert
John Stetch & Vulneraville
Independent (johnstetch.com)
Splitting his time between New York and British Columbia, Edmonton-born pianist John Stetch's recent Vancouver concert was a rare opportunity to display locally the contiguous rapport he's developed with his Big Apple cohort of tenor saxophonist Steve Kortyka, bassist Ben Tiberio and drummer Philippe Lemm, collectively called Vulneraville. Four-fifths of the disc is made up of Stetch's compositions, which mix the rigour of notated pieces with jazz's dramatic timbral fluctuations.
This is particularly apparent on Rondeau, related to a two-part Renaissance form with one part of the structure set to one musical line and the second to another. Stetch's extravagant keyboard technique easily adapts the mode, especially in the second section when his emphasis on the piano's higher-pitched dynamics is furthered by Kortyka's thickened obbligatos and increasingly powerful crunches from Lemm. It's these sorts of high-quality themes and variations that inform the pianist's other tunes, with Oscar's Blue-Green Algebra, another example. Mixing church-like processional motifs with chunks of pure keyboard swing, he suggests Oscar Peterson's hefty approach to the piano.
Oddly enough though, Stetch ends the concert with a straight-ahead version of the standard Things Ain't What They Used to Be. While the performance exudes romping excitement, with ample space for scorching breaks from each quartet member – even Tiberio, who is buried in the mix elsewhere – the choice is unfortunate. Things have changed as Stretch's compositions and Vulneraville's playing demonstrate. A less straight-ahead treatment would have been a better choice to affirm the title of the track.