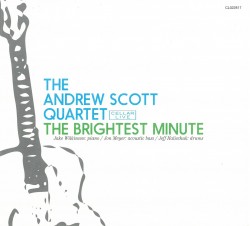 The Brightest Minute
Andrew Scott Quartet
Cellar Live CL022817 (cellarlive.com)
Skilled guitarist, composer, arranger and highly respected jazz educator Andrew Scott has just released his new Quartet CD under the fine auspices of the internationally noted jazz label Cellar Live. Co-produced by Scott and pianist Jake Wilkinson (who also engineered), the CD features eight tasty original, contemporary jazz compositions by Scott, as well as a fine lineup of players including Scott on guitar, Wilkinson on piano, Jon Meyer on bass and Jeff Halischuk on drums.
Kicking things off is My Ears Can't Hear Your Voice. Scott's swinging, soulful, full-bodied guitar sound brings to mind elements of Tal Farlow, Herb Ellis and Grant Green. Combine that with a tight, grooving, acoustic quartet, propelled by the jaunty, well-written material and Scott's facile soloing, and you have a dynamic jazz track. Wilkinson's rhythmic and emotional piano style is clearly featured here, and is reminiscent of a young Hampton Hawes.
A highlight of the recording (and in contrast to the rest of the high-octane tracks) is the thoroughly gorgeous ballad For Marilyn, dedicated to Scott's late mother, Marilyn Elizabeth Scott, who died in 2016. Scott is capable of such direct communication through his music that one can easily feel the love that inspired this piece. Also of note is the title tune – a high-intensity, New York-ish cooker that features not only the musical tightness of the ensemble, but also the high level of unspoken communication between the band members. A final favourite is Dreamin' – rendered with an almost Basie-like simplicity and Scott's perfect, rhythmic comping and in-the-pocket soloing. Easily one of the best small jazz group recordings of the year.