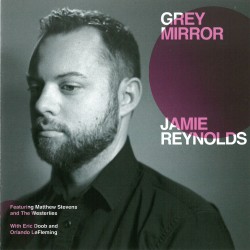 Grey Mirror
Jamie Reynolds
Fresh Sound New Talent FSNT 528 (freshsoundrecords.com)
Canadian-born and New York City-based jazz pianist Jamie Reynolds has just released a challenging and deeply moving recording, featuring himself on acoustic piano and Wurlitzer as well as special guests Matthew Stevens on guitar (who also served as co-producer), Orlando LeFleming on acoustic and electric bass and Eric Doob on drums. Other key players on this project are the noted brass quartet, the Westerlies, featuring Andy Clauson and Willem de Koch on trombones, and Zubin Hensler and Riley Mulherkar on trumpets.
In the planning stages Reynolds determined that in order to achieve the artistic expression, depth and meaning that he was looking for, he would arrange most of his 14 original compositions on the CD to be played in two diverse ways – by his trio plus Stevens and also by a brass quartet… thereby illustrating in a very real way, the constant, and often distorted and contradictory mirror images of nature.
The opening track, The Earliest Ending, is first expressed as a brief intro of stunning, warm and moving brass lines, and later as an almost Satie-like piano solo which seamlessly melds into sensual, lush guitar lines. The same juxtaposition occurs with Small Worlds, a hard-driving, face-melting guitar-centric quartet take, followed later in the program by a smooth and beautiful brass arrangement of the same composition. Other superb tracks include the evocative title track, which features excellent solos from the quartet and the stirring Good Help, replete with the distinctive, percussive sound of the Wurlitzer electric piano as well as concise and solid bass work from LeFleming.