Sometimes Y
Lina Allemano Four
Lumo Records 2017-7

Squish It!
Lina Allemano's Titanium Riot
Lumo Records 2017-8 (linaallemano.com)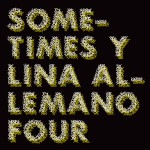 Trumpeter Lina Allemano has been playing in Toronto for two decades, becoming a central figure among the city's more creative musicians and developing enduring musical associations that tip over into a variety of bands. In recent years, Allemano has been splitting her time between Toronto and Berlin, where her musical life includes work with improvising ensembles from duos to the Berlin Improvisers Orchestra as well as studies with Axel Dörner, whose exploration of extended techniques has given the trumpet new life. On the home front, Allemano is releasing work by her two ongoing Toronto bands, each CD testifying to the virtues of longstanding partnerships combined with questing musical minds.
The Lina Allemano Four first recorded in 2003 and the current lineup has been in place since 2006, with alto saxophonist Brodie West, bassist Andrew Downing and drummer Nick Fraser. The group has apparent roots in classic free jazz ensembles like the Ornette Coleman Quartet, with similar emphasis on the leader's compositions and an almost stark principle of dialogue consistently informing the music. There's a frequent emphasis on speech patterns in Allemano's compositions, sometimes consisting of short, emphatic truncated phrases, and their realizations here are just as conversational, with West consistently adding supportive counterlines to Allemano's solos and the trumpeter returning the favour. Kanada, a high point, ends with an extended group dialogue that grows naturally from Downing's arco lead.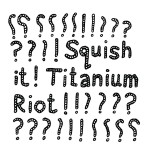 Allemano first assembled Titanium Riot in 2013 and released the group's debut Kiss the Brain a year later. Including Ryan Driver on analogue synthesizer, Rob Clutton on electric bass and Nick Fraser on drums, the group, devoted to free collective improvisation, undoubtedly benefits from the years working together in different contexts. The 2017 recording Squish It! is a dramatic continuation of the process. In this context, Allemano combines a distilled and pointed lyricism with striking timbral explorations to provide the music with an essential focus. It's evident in the opening moments of the title track as she concentrates on long tones and a sound that's a striking combination of subtle muting and the light buzz of air through the horn, the effect suggesting more than one trumpet. The quartet's close listening and attention to texture consistently create an almost orchestral feel. Allemano's focused concentration on sonority dovetails with Clutton's rich sustained bass tones and mobile lines, Fraser's shifting, energizing patterns and Driver's creative mix of environmental, vintage cartoon and sci-fi sounds. The results range from the playful to the genuinely mysterious.
While the methodologies of Allemano's two quartets differ, the groups share a collective passion for creative interaction as well as admirable results.