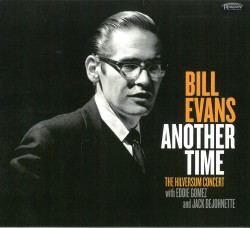 Another Time – The Hilversum Concert
Bill Evans Trio
Resonance Records HCD-2031 (resonancerecords.org)
In 2016, Resonance released Some Other Time, an unknown studio recording by the Bill Evans Trio from 1968, only the second recording issued by the group that included drummer Jack DeJohnette as well as Evans' longstanding bassist Eddie Gomez. The label has now released this live radio studio broadcast from the Netherlands, recorded just two days later. The recording quality is every bit as good and the presence of an audience adds to the performance's vitality.
Evans was a master of ballad reveries that extended the harmonic language of jazz with a Scriabin-like passion for modes and chromaticism. On his greatest recordings, however, he thrived on the most aggressively creative supporting musicians that jazz ever had to offer, the bassist Scott LaFaro and the drummer Philly Joe Jones, who never appeared together in Evans' recorded legacy. This trio with the relentlessly busy Gomez and DeJohnette, a highly inventive drummer between appointments with Charles Lloyd's quartet and Miles Davis' band, is as close as we're liable to hear.
The complex dynamic exchange adds to You're Gonna Hear from Me, Evans' dense chords subtly ambiguating the song's determined self-confidence, and it only develops from there, whether it's illuminating the contemporary Who Can I Turn To? or animating the superior ballad Emily. The concert unfolds beautifully, through DeJohnette's feature Nardis to superb renditions of Evans' own Turn Out the Stars and a brief, explosive version of Five. It's an essential recording for Evans enthusiasts.