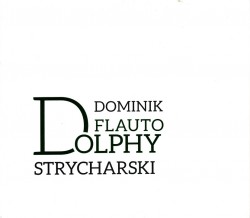 Flauto Dolphy
Dominik Strycharski
Fundacja Sluchaj FSR 03/2017 (sluchaj.org)
Jazz avatar Eric Dolphy (1928-1964) was proficient playing alto saxophone, bass clarinet and especially flute in Charles Mingus' and John Coltrane's groups. Here, his compositions and improvisations are saluted by Dominik Strycharski. Moving confidently through the eight tracks during a live session that leaves little space for miscues, the Polish polymath serves up unaccompanied interpretations of the Dolphy canon using soprano, alto, tenor and bass recorders, as if this is the most normal musical showcase.
Such Dolphy classics as Gazzelloni (named for the classical flutist) and Hat and Beard (saluting Thelonious Monk) are sophisticatedly reconstituted. That's because Strycharski's technical skills allow him to build up the second piece from atom-sized bites that are both percussive and triple-tongued, to a selection of dissonant pitches. Meanwhile Gazzelloni divides into exploding multiphonics seemingly squalled from more than one recorder at once, only to descend into a delicately tonal coda. Screeching atonality that brings out the instruments' pseudo-metallic buzz on Iron Man confirms Strycharski's skilful appropriation of both solo and accompaniment functions. Meanwhile his own composition, the concluding Sam, sets up ecstatic airy whorls and whirls that are as vocalized as they are played, yet still manage to capture and salute the melodic as well as the militant attributes of Dolphy's art.