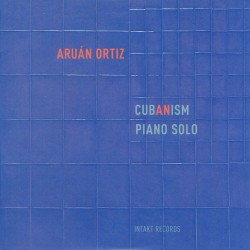 Cub(an)ism
Aruán Ortiz
Intakt Records CD 290/2017 (intaktrec.ch)
Aruán Ortiz is a mid-40s pianist who plays contemporary improvised music – alright, jazz – in traditions that are at once folkloric and modernist, rooted in an Afro-Haitian, Cuban tradition that has then mingled with several significant cultural transformations: his acknowledgements include Toussaint Louverture, who 200 years ago led the first successful slave uprising in the Western hemisphere (jazz buffs might fact-check the birth name of trumpeter Donald Byrd); cubist painters Picasso and Braque; the Cuban musicologist and novelist of genius, Alejo Carpentier; pianist-composers Cage, Nancarrow and Cowell; and free jazz icons like Roscoe Mitchell and Andrew Cyrille.
That's a lot to say, let alone carry, but Ortiz does it with determined grace, welling passion and taut execution. He plays ten original compositions here, many informed by polyrhythms and counterpoint, complex patterns that move insistently to new ground. The longest work, Cuban Cubism, is a suite of contrasting parts; Monochrome (Yubá) matches contrasting keyboard patterns, one part prepared, the other customary; the brief Dominant Force is a charging polyrhythmic pattern that links jazz piano from Fats Waller to Andrew Hill in a singular gesture.
Cuban jazz piano often emphasizes the island's historical and cultural links to 19th-century European Romanticism, opting for a decorative, even glib style. Ortiz is different, matching the primal energies of Chano Pozo and the radical fictions of Charpentier with the revolutionary visions afoot in 20th-century European and American cultures. In the process, he creates heady, invigorating music.