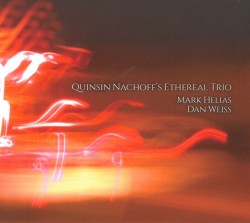 Quinsin Nachoff's Ethereal Trio
Quinsin Nachoff; Mark Helias; Dan Weiss
Whirlwind Recordings WR4706 (quinsin.com)
Toronto-born New York resident Quinsin Nachoff has created several projects in which interests in jazz and formal composition overlap, from the harmonic complexity of his Flux to the strings of his Horizons Ensemble. The Ethereal Trio, a more improvisation-oriented group that matches Nachoff's tenor saxophone with the very distinguished bass work of the veteran Mark Helias (who will perform a solo set at the Guelph Jazz Festival on September 17 at noon) and the propulsive, creative drumming of Dan Weiss, arose from a project with the Penderecki String Quartet that combined the quartet with a jazz trio, encouraging Nachoff to pursue this bare-bones format further.
Without a chordal instrument, the trio's emphasis is rhythmic and melodic with a keen sense of structural interactivity between Nachoff's compositions and the group's relatively free improvisations. While Nachoff's patterns tend more to the serial than the triadic, there's a certain kinship to the great early trios of saxophonist Sonny Rollins, with an acute rhythmic awareness among the three partners as they shift accents and bounce phrases off one another's lines. It's strongest on the hard-edged Subliminal Circularity, but it arises as well in the layered rhythms of Push-Pull Topology. Nachoff's fondness for traditional string textures is supported here by Helias' fine arco work, especially on the lyrical Gravitas.
The trio is loose without being casual, at once taut and free, and the consistent quality of detailed interplay and invention brings Nachoff's forceful, inventive tenor playing to the fore. It may be his most satisfying recording to date.