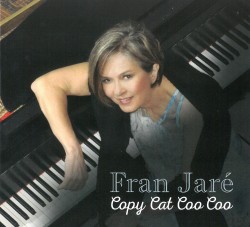 Copy Cat Coo Coo
Fran Jaré
Superfran Records FJ0157
Fran Jaré wears a number of hats on her new recording – producer, pianist, organist, composer and vocalist. Having made strong inroads into the genres of R&B, pop and rock (notably as the lead vocalist for the popular Vancouver ensemble Soultrax), Jaré has journeyed back into jazz with some very (dare I say it?) groovy results. The tight, cool and satisfying ensemble is bound together not only by talent and love of music, but also by a jazz-pedigreed gene pool (the executive producer is Jaré's husband, Brian Disterheft, and features both her JUNO-winning bassist daughter, Brandi Disterheft, and her Grammy-winning sister, Angie Jaree). Additional JUNO-winning instrumentalists include Olaf DeShield on guitar and electric bass, Tom Keenlyside on sax and flute, Buff Allen on drums, Brad Turner on trumpet and also famed percussionist Portinho.
The well-chosen material is primarily a mash-up of Jaré's original compositions, written over a period of time and culled from previous recordings and musical situations – including Soultrax and incarnations of the Fran Jaré Trio/Quartet/Quintet. A deep bow to the incredible Stevie Wonder is also included with Jaré's slow, smooth and funky take on I Wish. She also pays tribute to the late great, Oliver Nelson with the buoyant Step Right Up. The title track is an infectious, soulful romp, perfectly underscored and punctuated by Jaré's considerable organ/piano chops and the fine soloing and ensemble playing.
On Yeah! Together Again, Jaré's smokey vocal sound brings to mind Joe Stafford and Julie London in perfect synthesis with Jaré's own sensual, unique, film noir-infused voice. Her charming scat singing is not only completely musical, but delivered with joy and accuracy. A fine recording!