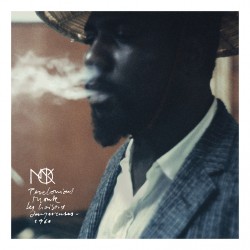 Les Liaisons Dangereuses 1960
Thelonious Monk
Sam/Saga SRS-1-CD (sagajazz.com)
For Thelonious Monk, the most creative of bop composers and a brilliantly original pianist, life flowed no more smoothly than one of his craggy, knotted, playfully or naggingly disjointed compositions. When director Roger Vadim contracted him to provide a soundtrack for Les Liaisons Dangereuses 1960, Monk was experiencing career highs and personal lows, gaining attention and employment while facing drug charges and a nervous breakdown. This two-CD (or two-LP) set issues material from the 1959 soundtrack session for the first time, supplementing it with extensive documentation.
Monk really was at his best in the late 50s, increased acceptance leading to regular work, frequent recording and the best sidemen of his career (e.g., John Coltrane and Sonny Rollins). Here it's the newly arrived tenor saxophonist Charlie Rouse, Monk's most convivial partner, a stellar rhythm team of bassist Sam Jones and drummer Art Taylor and tenor saxophonist Barney Wilen added on some material. The music is alternatively sparkling (the quintet's Rhythm-a-Ning), profoundly lyrical (solo and quartet versions of Pannonica) and pensively luminous (a solo version of the hymn By and By), a boon to every connoisseur of Monk's mysteries.
That said, this material is less accessible to the Monk newcomer: there are multiple takes and false starts, two edits of the same take, and a 14-minute rehearsal with Monk repeatedly trying to get Taylor to play an awkward drum pattern. There are numerous Riverside recordings available that are much more welcoming.