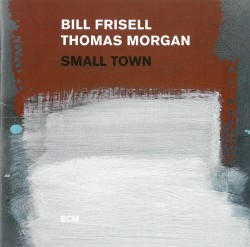 Small Town
Bill Frisell; Thomas Morgan
ECM 2525
Bill Frisell has developed a distinctive style, his lines spare and spacious, his sustained electric guitar sound approaching the mass of a pedal steel. He has explored the resonant depths of a variety of roots music (country, blues and rockabilly) as well as creating an original voice in jazz. The complex mix of warm intimacy and refractory cool that Frisell can bring to a performance is amplified in his recent work with Thomas Morgan, whose broad-toned acoustic bass provides both underpinning and reflection to Frisell's lines.
Recorded at New York's Village Vanguard (the room is both resonant and reverential), Small Town explores a breadth of American music within a unifying vision. It opens with the late drummer Paul Motian's It Should Have Happened a Long Time Ago, revealing the harmonic telepathy of which the two are capable, then continues Frisell's associations with modern jazz royalty with a contrapuntal and lightly boppish treatment of Lee Konitz's Subconscious Lee. Frisell's luminous title piece explores multiple dimensions of an American heartland, while its mystery appears in an eerily beautiful rendition of Wildwood Flower, composed by Joseph Philbrick Webster in 1860 and first recorded by the Carter Family in 1928.
The breadth of Frisell's relationship to traditional popular music is further apparent in the cheerfully subdued version of Fats Domino's What a Party. It might escape recognition, but the concluding Goldfinger won't. Frisell can shed new light on the most unlikely material.