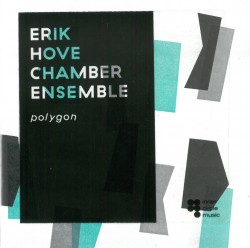 Polygon
Erik Hove Chamber Ensemble
Independent (erikhovemusic.com)
Montreal-based alto saxophonist and composer Erik Hove is a musician of startling persistence and ambition, as ready to challenge himself as his listeners. In 2014 he released Saturated Colour by his ten-member Chamber Ensemble, a well-rehearsed group playing complex compositions that merged the microtonal methodologies of spectral composition à la French composers Gérard Grisey and Tristan Murail with a jazz rhythm section and improvised solos, an approach also pioneered by New York-based saxophonist/composer Steve Lehman.
Now, simply put, Hove has done it again, with just three personnel changes in the ensemble of four reeds (including flutes, clarinets, oboe and saxophone), trumpet, string trio, bass and drums. He has an increasingly assured and innovative command of his complex materials, happily mixing microtonal chords, machine-like arpeggios and complex rhythms. On Metal Clouds, Hove, flutist Anna Webber and violist Jean René solo with aplomb, matching their own quarter-tones with those of the accompanying chords. His gifts as an orchestrator come increasingly to the fore as the program continues, with Inversions developing eerily sustained mixes of strings and reeds.
Hove uses improvisation selectively and structurally: Inversions is already a well-developed piece before it welcomes a passage of collective improvisation, while Tetrahedron begins as a feature for Andy King's jazz-fueled trumpet, eventually evolving into a composition for full ensemble. Hove's finest moment as an improviser comes at the end as he solos on the brief Octagon, lifting its evanescent textures while adding further mystery.