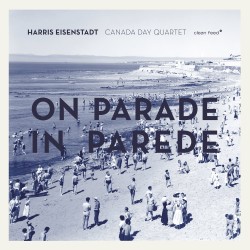 On Parade in Parede
Harris Eisenstadt Canada Day Quartet
Clean Feed 413CD (cleanfeed-records.com)
Harris Eisenstadt is a Toronto-born drummer and composer who resides comfortably at the creative edges of jazz. His band Canada Day, usually a quintet, is a quartet for this occasion, a concert in the beachfront town of Parede, Portugal.
The band includes two Americans, trumpeter Nate Wooley and tenor saxophonist Matt Bauder, and the French-German bassist Pascal Niggenkemper. The musicians have age in common (they're between 38 and 42) and something else: sheer brilliance. Among Eisenstadt's numerous ensembles, Canada Day may be the most traditional and also the loosest: its sprung rhythms (suggesting African and Latin roots) and clipped themes recall the early music of Ornette Coleman, while the individual and collective voices of the band sound like they were just invented.
It's easiest to point out moments of individual invention, like Wooley's solo on We All Ate…Parts 2 & 5, but there's also the moment on Sympathy Batters No Parsnips at which Bauder's extended techniques reach peak fervour only to have Wooley enter with a spray of brassy sound, the trumpet as white-noise generator, multiplying the music's already high density. While individual highlights are frequently brilliant, it's the group's collective invention and precision that's most impressive, from the compound pulsation elaborated by Eisenstadt and Niggenkemper on We All Ate…Part 3 to the final instantaneous ensemble halt on Part 1.
One might debate this music's category, but whatever it is, this is the state of the art.