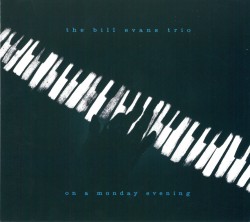 On a Monday Evening
The Bill Evans Trio
Fantasy FAN00095
(concordmusicgroup.com)
Previously unknown recordings of Bill Evans have been surfacing regularly of late, confirming the late pianist's position as one of the most rapturously lyrical and harmonically creative figures in jazz history. This installment captures Evans in concert in Madison, Wisconsin, in 1976 with his regular trio of bassist Eddie Gomez, then in his ninth year in the group, and drummer Eliot Zigmund, who had joined the previous year. The chemistry with Gomez is particularly good: the bassist spent over a decade in the trio and was Evans' most adventurous partner after Scott LaFaro, who had first defined the highly mobile role of the bass in the Evans trio, moving from harmonic fundamentals and propulsion to aggressive counter melody with sudden excursions to the upper register.
Evans certainly lives up to his reputation for limpid beauty here. There's the reverie of Time Remembered, the pensive Minha (All Mine) and the trance-like elaboration of Leonard Bernstein's Some Other Time; however, there's also energized music as well, like the exploratory T.T.T. (Twelve Tone Tune) and All of You, with room left for extended bass and drum solos that bring the trio's individual strengths to the fore.
While this lacks the surprise of the recent Some Other Time: The Lost Session from the Black Forest (Resonance), an unknown studio recording from 1968 with drummer Jack DeJohnette, On a Monday Evening is a fine addition to a still-expanding body of work.