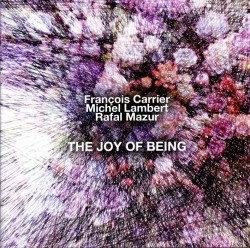 The Joy of Being
François Carrier; Rafal Mazur; Michel Lambert
No Business Records NBCD 97 (nobusinssrecordfs.com)
Continuation of the unique Polish-Canadian partnership between Montrealers alto saxophonist François Carrier and drummer Michel Lambert, plus Krakow's acoustic bass guitarist Rafal Mazur, this session finds the parts meshing like Polish perogies and Québécois beer: unusual but nourishing.
Mazur is ambidextrous in that his work utilizes both guitar-like intonation and double bass-like resonation. His fluid strokes create a walking-bass-like foundation on tracks such as True Nature allowing the others freedom to improvise; while his solo forays such as Omnipresent Beauty, vibrate sophisticated tonal asides which frequently refocus the narratives. As adept at squeezing rhythmic inferences from his drums and cymbals with the attention of a doctor performing microsurgery, Lambert's motion subtly reinforces the program so that most beats are implied. Although tracks such as True Nature exultantly stretch Carrier's solos almost to the edge of infinity so that that every variation, extension and partial, is exposed, these choppy asides don't negate the saxophonist's other side. His wide vibrations and thoughtful timbre elaborations on Blissfulness and Mystery of Creation, for example, are as artful as Paul Desmond's ballad style.
With the hushed and hardy parts of the trio's work constantly available, the title tune is the most distinctive showpiece. Producing yelping split tones from a Chinese oboe, Carrier strains to outline Mazur's crackling runs and Lambert's undulating slaps. With Carrier back on alto by the finale, The Joy of Being becomes yet another instance of the trio's complete communication.