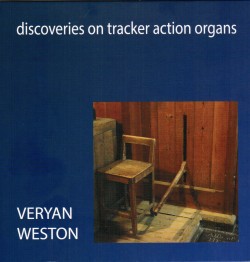 Discoveries on tracker action organs
Veryan Weston
Emanem 5044 (emanemdisc.com)
Veryan Weston is an English improviser and composer, a brilliant free-jazz pianist whose works include Tessellations, a structure for improvisation that moves permutationally through 52 pentatonic scales. Weston is inspired by the behaviour of different keyboard instruments and by the possibilities of microtonality, two passions that came together on the 2014 Tuning Out tour with violinist Jon Rose and cellist Hannah Marshall (Emanem 5207).
In preparation, Weston visited old churches, exploring some 30 tracker action organs, small mechanical instruments in which "there is only a short gap between the touch of a key and the pipe making a sound." Weston was concerned with the instruments' individual characteristics: "When each stop is very gradually pulled out (or pushed back in) while a key is pressed, you can hear many stages of the sound being made; from breath to whisper…Often microtones seem to bend toward a final pitch."
The material here has been drawn from Weston's recorded research, exploring the sonic quirks and minutiae of various instruments, making fresh discoveries in the lightly swirling runs of Quiet Fanfare (from St. Mary the Virgin in South Croxton), the low-pitched chords with foghorn effects of Proceeding with Caution (All Saints in Horstead) and the playful, calliope-like Fair with Ground (St. Anselm Hall in Manchester). The 24-minute Numerous Discoveries (All Saints in York) is a work of sustained invention, with Weston finding sub-vocal bleats and wails as well as beat patterns between close frequencies. This is fascinating music, a fine companion to Messiaen's improvisations and Áine O'Dwyer's Music for Church Cleaners.