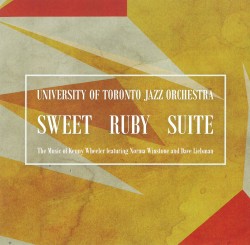 Sweet Ruby Suite – The Music of Kenny Wheeler
University of Toronto Jazz Orchestra
U of T Jazz (uoftjazz.ca)
The University of Toronto Jazz Orchestra is an 18-member student unit directed by Gordon Foote. On Sweet Ruby Suite, they pay tribute to the late Kenny Wheeler, Canada's most esteemed jazz composer. The orchestra is joined by singer Norma Winstone, one of Wheeler's closest collaborators and the distinguished American saxophonist Dave Liebman. The program also pays tribute to one of Wheeler's finest Canadian chapters, his work as soloist, composer and orchestrator with the Maritime Jazz Orchestra: the group, which featured U of T faculty member Mike Murley, recorded two of the pieces here, the half-hour title suite and the brief W.W. in 2002, and another, Winter Sweet, in 1996.
The U of T orchestra brings admirable precision and taste to the performance, with Foote drawing lustrous brass textures from the ensemble in keeping with Wheeler's Hindemith-inspired harmonies. Two of the trumpeters are featured as soloists on flugelhorn, Wheeler's own frequent instrument of choice: Brad Eaton has a lively give-and-take improvisation with Liebman on the sprightly W.W., while Marie Goudy touches on Wheeler's special lyricism, at once slightly muffled and soaring, on Winter Sweet.
Canter No.1, which Wheeler performed with both small groups and large, is effectively arranged here by Terry Promane, creating a delicate backdrop for Winstone's brilliant wordless improvising and Liebman's rapid, peppering soprano saxophone. The entire program is a worthy homage to Wheeler's contributions to jazz composition and education.