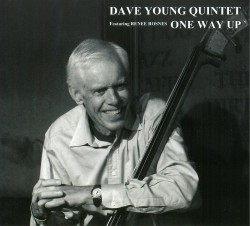 Dave Young Quintet featuring Renee Rosnes
Modica Music (modicamusic.com)
Review
Toronto bassist Dave Young has had a distinguished career, including duet recordings with pianists Oscar Peterson, Kenny Barron and Cedar Walton. In recent years, he's led a fine quintet reworking classic modernist repertoire, including compositions by Charles Mingus and Horace Silver. On One Way Up, the group includes regulars Kevin Turcotte on trumpet, Perry White on tenor saxophone and Terry Clarke on drums, with a special guest, the Vancouver-raised, New York-based pianist Renee Rosnes.
This time the group explores hard bop and post-bop compositions by icons like Walton, Joe Henderson and Freddie Hubbard as well as three of Young's own pieces. This is the most muscular of jazz idioms (think Blue Note records of the late 50s to mid-60s), and the band brings real heft to every tune, some characterized by anthemic themes and punchy vamps and ostinatos. As the program moves along it makes perfect sense for Turcotte to be spinning long, bright lines on Hubbard's Intrepid Fox or White finding the perfect degree of reflection for Henderson's Inner Urge: it's not imitation, but the original inspiration is clear in both cases, and there's no more apt Canadian choice for any chair in the band. (It's also true when regular pianist Gary Williamson is present.)
The requisite combination of vibrant subtlety and polished force begins in the foundations with Young and Clarke, who often come to the fore, and continues with Rosnes' sparkling comping and soloing, particularly brilliant on Henderson's Serenity. Walton's Holy Land is a hymn-like piece thoughtfully arranged to include Young's somber arco bass and Turcotte's elegiac trumpet.