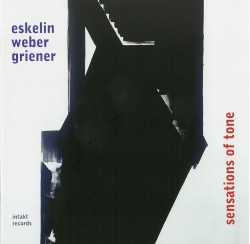 Sensations of Tone
Ellery Eskelin; Christian Weber; Michael Griener
Intakt Records CD 276/2017 (intaktrec.ch)
2017 marks the centenary of jazz recording, commemorating the Original Dixieland Jazz Band's Dixieland Jass Band One-Step and Livery Stable Blues released on March 7, 1917. Few recordings are likely to bridge that century as imaginatively as Sensations of Tone. New York-based tenor saxophonist Ellery Eskelin first worked with bassist Christian Weber and drummer Michael Griener playing improvised music on a tour of their native Switzerland. During their time together the three discovered a mutual love of early jazz. Five years later, they've amalgamated those interests, creating a CD that alternates free improvisations with contemporary interpretations of classic tunes.
Ellery Eskelin is a brilliant inside-outside player, as adept at negotiating chord changes as he is in a free exchange of musical ideas. He's the master of a continuously inflected, speech-like line, reminiscent of Sonny Rollins in his prime, and in Weber and Griener he has ideal partners, whether they're supporting, challenging or peppering each other with new data. Together the three maintain open space and real momentum in a group dialogue. Leads shift comfortably in the free improvisations, whether it's Eskelin muttering a multiphonic complaint, Weber delineating a spontaneous melody or Griener essaying the sonic recesses of his kit.
That conversational principle is just as alive when they mine the decade between 1922 (China Boy) and 1932 (Moten Swing), with Jelly Roll Morton's Shreveport Stomp (1924) and Fats Waller's Ain't Misbehavin' (1929) in between. With a playful sense of period detail, the trio imbues the songs with spontaneous wit and warmth that recall their original spirit.