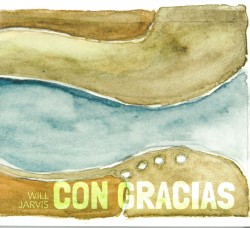 Will Jarvis – Con Gracias
Will Jarvis; Hilario Duran; Bill McBirnie; Kevin Turcotte et al.
Independent WTM-001
(willjarvismusic.com)
This impressive debut recording from bassist/composer Will Jarvis is a collection of ten original tunes, firmly steeped in the Afro-Cuban tradition. Jarvis, who also acts as producer and arranger here, has been focused on Latin musics since the early 90s, and the muy picante CD features an impressive line-up, including pianist Hilario Duran, flutist Bill McBirnie, trumpeter Kevin Turcotte, percussionists Luis Orbegoso, Rosendo Chendy León Arocha and Daniel Stone, as well as jazz mainstays Don Thompson on vibes, Bruce Cassidy on flugelhorn, Michael Stuart on tenor sax and Trevor Dick and Drew Jurecka on violins.
First up is the lively Vientos de Cambio (Winds of Change). Written as a zesty guaguancó, the percussion work propels this tune along, as does the solid solo and ensemble work from McBirnie and Duran, as well as a tasty bass solo by Jarvis. Also, the gorgeous Cha-Cha-Cha, Como Metheny, honours the creative spirit of the celebrated guitarist, and Don Thompson's contrapuntal vibraphone lines further imply a very Metheny-esque flavour while Kevin Turcotte's flugelhorn solo is, simply, perfection.
Outstanding is the title track Con Gracias (With Thanks). This bolero beautifully represents contemporary Cuba and the massive impact on jazz that has been graciously given to the world by a prestigious parade of talented and brave Cuban musicians. Michael Stuart's heartrending tenor solo conveys this heady emotional cocktail of joy and longing.
This fine CD aptly closes with the intense, contemporary cooker, Nuevo Afro, which lovingly embraces everything that is so intoxicating about Afro-Cuban musical forms. Superbly conceived and performed, this is a thoroughly satisfying, accessible and authentic journey into our most ancient and visceral musical origins.