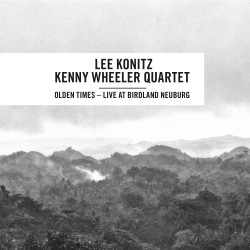 Olden Times – Live at Birdland Neuburg
Lee Konitz-Kenny Wheeler Quartet
Double Moon Records DMCHR 71146
In 1996 the late trumpeter Kenny Wheeler may have recorded his most singularly beautiful CD, Angel Song, with a quartet that included alto saxophonist Lee Konitz, guitarist Bill Frisell and bassist Dave Holland, each a consummately lyrical musician. Two years later Wheeler and Konitz were appearing in a quartet in the Bavarian city of Neuburg with two German musicians, pianist Frank Wunsch and bassist Gunnar Plümer, who provide solid support and some fine individual moments. This live recording captures music very near the level of Angel Song, benefitting further from the relaxed club atmosphere.
Konitz's compositions swing readily, with a strong inner drive and a lighter mood, whether it's his propulsive solo on Lennie's, named for his mentor Lennie Tristano, or the highly varied Thingin', which in its lively quarter hour keeps finding different instrumental textures within the quartet, whether it's a two-horn theme statement accompanied by just lockstep piano chording or an ebullient passage of alto saxophone set against just walking bass.
Wheeler contributes four pieces, including two that appeared on Angel Song: Kind Folk and Onmo. His compositions and improvisations are masterful demonstrations of economy of means and maximum effect. What begins as a work of serene repose can take on a range of subtle emotions from pensive reflection to sublime melancholy, whether delivered with a sudden leap into the upper register, a pinched note or a sustained blast of air through his flugelhorn.
Konitz and Wheeler sound like they were born to play together, and their accompanists here complement them well.