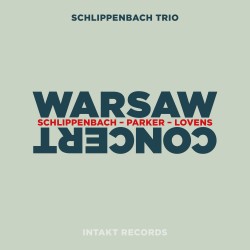 Warsaw Concert
Schlippenbach Trio
Intakt Records CD 275 (intaktrec.ch)
As pianist, composer and bandleader, Alexander von Schlippenbach is a major figure in European free jazz, numbering among his achievements the founding of Globe Unity Orchestra, a pan-national improvising big band in 1966, and the recording of Monk's Casino in 2005, in which he performed all of Thelonious Monk's known compositions. Perhaps above all, though, he's the leader of Schlippenbach Trio with saxophonist Evan Parker and drummer Paul Lovens, a group that has been performing regularly since 1970, releasing some 20 LPs and CDs without any personnel change beyond the occasional addition of a bassist.
Schlippenbach still embraces the term "free jazz," and there's little reason to fuss the delineation. This largely improvised music belongs undeniably to the category: the group moves fluidly through patterns of harmonic agreement and it swings mightily. The credits acknowledge "briefly played themes," one by Schlippenbach and two by Eric Dolphy. When Schlippenbach launches an unaccompanied solo in the midst of the 52-minute track called Warsaw Concert, it's rooted in the twin sources of blues and bop, the former a specific melodic content, the latter a characteristically jagged rhythmic exploration that becomes only more specific when Lovens joins in.
The trio has a unique sense of momentum: a sparkling conversation among old friends includes some fine turns of inspired individual rhetoric – Parker can spin a tale while wandering through mazes of cycling harmonics – but Lovens' dizzying cymbals are there to highlight the finish. It's particularly fine when the three seem bent on an idyllic ballad, only to have the collective pulse race at the promise of adventure.