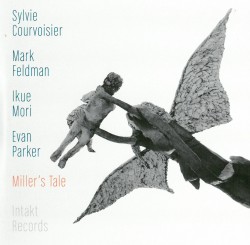 Miller's Tale
Sylvie Courvoiser; Mark Feldman; Ikue Mori; Evan Parker
Intakt Records CD 270 (intaktrec.ch)
British saxophonist Evan Parker initially assembled this quartet of free improvisers in 2015 for a performance at New York's The Stone, achieving results that led to this studio recording of quartet and duo pieces. It's a meeting of virtuosi, each musician possessing a certain brilliance of execution, whether it's violinist Mark Feldman's vibrant, slashing bow work, Sylvie Courvoisier's waterfall runs and mutating piano preparation, Ikue Mori's ever-evolving stream of patterns and novel timbres from her electronics or Parker's command of alternative techniques, combining multiphonics and circular breathing into teeming, oscillating waves of bird-like sound.
However, it's the level of interaction that's most impressive. Individual instruments come together, sometimes blurring and even fusing identities, from the whirling hive of sound that climaxes Death of a Salesman to the welling drama of The American Dream, an extended piece that reveals each member's capacity to shape an extended piece. Up from Paradise strongly suggests the work of Messiaen.
The astonishing attention to detail and a consistent delicacy of mood make this sound less like collective improvisation and more like a composed suite of subtly varying textures, a unity that spreads from the four quartet pieces to the series of five duets, which includes every possible pairing except Courvoisier and Feldman, a husband-and-wife team who have recorded extensively as a duo. This is one of the most accomplished CDs of the year in improvised music.