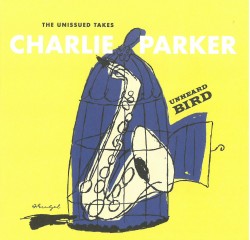 Unheard Bird – The Unissued Takes
Charlie Parker
Verve B0024802-02
Perhaps no musician in jazz history (not Armstrong, Young or Coltrane) has quite inspired the devotion accorded Charlie Parker, the result of changing recording technology, incandescent improvisational genius and a brief, mythologized life. He inspired cultish devotion, from Kerouac poems to heroin addiction, and the pioneering bop label Dial was virtually launched to record him. One acolyte, Dean Benedetti, recorded Parker live, following him from California to New York, sometimes recording just his solos to economize on tape – the recordings run to seven CDs.
That should provide context for this 2-CD set of recordings made by Norman Granz from 1949 to 1952. It matches 52 previously unknown false starts, incomplete takes and occasional alternates with the 17 corresponding released masters. That may sound like material meant only for the scholar or completist, but its appeal may be broader. Those false starts demonstrate the invention that Parker could lavish on a theme statement; and more extensive takes show the way he would re-envision a tune in the studio. There's even something fascinating about hearing that mercurial mind interrupted by a whistle or shout before reassembling the possibilities. Parker's accelerated mind seems made for this, as if each interruption is an opportunity for another path, as if improvisation is a strategy for evasion.
The complete takes offer both resolution and reward for what goes before, and there are moments here from highly varied Parker projects, the session with Dizzy Gillespie and Thelonious Monk, working with small bands and large ensembles from strings to Machito's Latin big band. It's all fascinating stuff.