Musical Inspirations Arise from Unexpected Sources
Creativity may, as the aphorism says, be 90 percent perspiration and 10 percent inspiration. But finding the proper inspiration can be a challenge in itself. Like a mathematical theorem made up of various formulae, stimulus for music – especially creative music – arrives from anywhere. Consider these discs whose genesis couldn't be more dissimilar, but whose interpretation is of uniform high quality.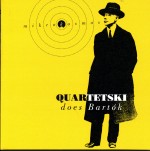 Turning another page in its scorebook filled with the themes of composers from the so-called classical music canon, Montreal-based Quartetski – now a quintet – Does Bartók, on Mikrokosmos Sz 107 (Ambiances Magnétiques AM 224 CD actuellecd.com). It reconfigures to group improvisation piano pieces composed by Hungarian Béla Bartók (1881-1945) to synthesize musical and technical problems. Bartók, who was as attuned to Magyar folk music as his contemporary Arnold Schoenberg was to serialism, could never have imagined Quartetski's instrumental make-up, unless he was also a futurist. The band is reedist Philippe Lauzier, guitarist Bernard Falaise, violinist Joshua Zubot, drummer Isaiah Ceccarelli and Pierre-Yves Martel, playing electric bass and synthesizer. Like films whose interpretation of a literary source is radically different, but representative, Quartetski's 25-track variant of the oeuvre adding jazz, folk, rock and electronic inflections must be judged on its own. One reductionist way to approach this material is to itemize how often and quickly musical currents appear and disappear. For instance, take the many transitions which are evident during the sequenced five tracks: En mode mixolydien #48, Unisson divisé #52, Mélodie en dixièmes #56, Majeur et mineur #59, Triolets #75 and Hommage à Robert Schumann #80. Near-heavy metal thuds and clangs struggle for space alongside pastoral reed notes and high-European string swells. Later, like a space ship from the future landing in primitive times, contemporary timbres are subsumed beneath electronic loops. Paradoxically, when the themes are more obtuse, a buoyant melody is created where rugged Eastern European dance inferences mix up with crinkly guitar flanges. Similar schematic diagrams could be constructed for other sequences which append inferences including Hawaiian guitar-styled licks to an electric bass line reminiscent of Stax-Volt. But the key linkage appears among other tracks, Six mélodies à l'unisson, Notes pointées #7, Mains alternées #10, Mouvement parallèle #11 and Danse hongroise #68 plus Mélodie contre double-cordes #70. Prominent among the calliope-like motifs and synthesizer smears is an arching narrative that by the end adds Prairie hints to the Magyar countryside. Quartetski's originality is confirmed on the group-composed title track. Like the inevitability of waves hitting and receding from the shore, the performance bonds string sweeps, aviary reed whistles and an electric undertow into tremolo washes. The CD confirms that the quintet can positively transform a revered composer's supposedly unalterable work.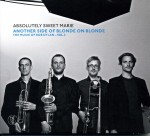 An even better known 20th-century composer is Bob Dylan, whose 1966 2-LP milestone Blonde on Blonde is the inspiration for Berlin quartet Absolutely Sweet Marie (ASM)'s Another Side of Blonde On Blonde (Tiger Moon: Records TMR 003 tigermoonrecords.com). Unlike Dylan's electrified guitars and keyboards-focused session, the band – trumpeter Steffan Faul, trombonist Matthias Müller, tenor saxophonist Alexander Beierbach and drummer Max Andrzejewski – play the songs in the same sequence as the original disc, but completely acoustically. Dylan's canon is no more inviolable than Bartók's and ASM shows its skill by re-contextualizing the familiar themes to take on new resonance. The marching band/Dixieland outlines of tunes such as Rainy Day Women #12 and 35 and Most Likely You Go Your Way, I'll Go Mine are easily converted to peppy showcases with R&B-styled sax riffs and trumpet exotica. But like the climber who first rappels up the Matterhorn then tackles Mount Everest, upping the challenge is more breathtaking. Absolutely Sweet Marie for instance, takes on a trumpet and trombone Mariachi sheen, while Pledging My Time becomes a canon as horn tremolos decorate the theme. Replete with altissimo slurs from Beierbach, Temporary Like Achilles is ground down into atoms. Just as art restorers sometimes find traces of an earlier picture on the canvas underneath another, ASM exposes unexpected jazz linkages in some of the songs. Cross pulsations inject the chorus of Sun Ra's Space is the Place into the melody of One of Us Must Know; while the transformation of Fourth Time Around into an energetic bebop rocker is both mocked and underlined as John Coltrane's unmistakable introduction to A Love Supreme is heard. The crowning achievement is when the four inject a circus-like atmosphere into I Want You via yelping horn parts to make it swing in all senses. As notable and thorny as alloying steel, the anthemic Just Like a Woman is re-imagined with a horn trio, with Berierbach almost tying himself into knots as he improvises freely.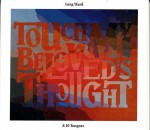 A jazz score composed for a free-form dance company, Touch My Beloved's Thought (Greenleaf Music GRE-CD-1050 greenleafmusic.com) has clear-cut themes and a point of view, but like a film recast with new actors to give it contemporary resonance, part of its achievement is what it's not. That's because the inspiration for alto saxophonist Greg Ward's creation, interpreted by his 10 Tongues band, was that a Chicago dance company wanted to choreograph movements to something like Charles Mingus' 1963 milestone, The Black Saint and the Sinner Lady. Taking that as a challenge, Ward adapted elements of Mingus' seminal work without emulating any of the music itself and used different instrumentation ranging from the cornet on top to the bass trombone and baritone saxophone on the bottom to do so. A couple of times his own sour reed bites approximate the sound of earlier soloists and in the finale, Gather Round, The Revolution Is at Hand, a direct Mingus theme is interpolated. But mostly Ward's music is more romantic, bluesy and utilitarian than its model. Especially noteworthy is The Menacing Lean, where a bolero beast superseded Marcus Evans' timed drum rolls, preceding a stop-time challenge from baritone saxophonist Keefe Jackson and tenor saxophonist Tim Haldeman that moves the ensemble to effortless swing. Jason Roebke's ringing double bass line and Dennis Luxion's piano note emphasis enhances the climax. Later, Norman Palm's lazy trombone slurs and call and response from the saxophonists frame the penultimate tracks. Round 3 and Dialogue of the Black Saint come across as much a brass player's derby's tip to Mingus' influence Duke Ellington and many pre-modern trombonists as dance accompaniment. Sonically illuminating many motifs from staccato tonguing to muted nostalgia, Ward suggests strategies for the dancers. Then, like a mathematician marshalling various hypotheses into a theorem, he uses the concluding sequence to build the instrumental sections up to excited cacophony and down to calm for an appropriately simultaneous summation and homage.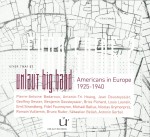 In terms of slightly off-centre inspirations, consider the Umlaut Big Band's Euro Swing Vol. 2 (Umlaut UMFR-CD18 umlautrecords.com). While the 16-piece French orchestra puts a new spin on swing-era tunes, the transcriptions on which they're based – mostly created by its saxophonist/director Pierre Antoine Badaroux – are unique. That's because these pre-World War II recordings either featured jazzers like Duke Ellington visiting Europe, or were played by local bands directed by Americans such as drummer Sam Wooding or alto saxophonist Benny Carter, who were European residents at the time. Undoubtedly Carter (1907-2003), who spent time in Holland, Belgium, England and France, is the avatar of the session. Like comparing a pre-renaissance canvas to the Mona Lisa, hear how the primitive two-beat feel of Bull Feet Stomp, with its so-called hot choruses, first recorded by drummer Wooding in 1929 is replaced by the balanced classicism of Carter's arrangements from less than ten years later. Tracks such as a mid-range treatment of Honeysuckle Rose, first recorded in Paris in 1937, with its buffed single-string break from guitarist Roman Vuillemin plus Badaroux's alto, move the exposition forward to modernity, while the carefully harmonized reed section of I'm Coming Virginia, initially recorded in 1938 in Paris, confirms the music's maturity. At the same time, while staying within the originals' bumpy-smooth parameters, the band members' solos are neither clones nor caricatures. Despite the Charleston echoes on 1925's Piccadilly Strut, pianist Bruno Ruder takes into account the relaxed Count Basie-type style that wouldn't be common until a few years later. Similarly Emil Strandberg's muted trumpet glides ocean-liner-like on the reed riffs created for Ellington's 1933 Stockholm-cut Serenade to Sweden, while the high-pitched brass blasts of the trumpet plus trombonist Fidel Fourneyron transform the cartoon soundtrack-like feel of Wooding's 1925 Berlin-recorded Shanghai Shuffle into something more pliable and daring. The most creditable solos come from clarinetist Antonin-Tri Hoang. He brings the same effective fluttering tonguing and animated commitment to his parts whether it's partial singsong on Piccadilly Strut, timed modulations on Sweet Madness initially done by Freddy Johnson in 1933 Paris, or bolstered sound waves on Blue Room, a 1940 Carter arrangement for Jean Omer.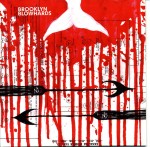 The enthusiasms of the other bands may be singular, but an equally notable eponymous set by the Brooklyn Blowhards (Little (i) music littleimusic.com) is a case study in post-modernism. Arranged by reedist Jeff Lederer, and played by the eight-piece band plus two guests, the 14 tracks owe allegiance to both the over-the-top free jazz of saxophonist Albert Ayler (1936-1970), who died by drowning, and the obdurate melodies of traditional sea shanties. The linkage may seem opaque, but once the gale-force bluster that characterizes Lederer's tenor saxophone glossolalia on Ayler's Bells is immediately followed by the heaving plunger smears from Brian Drye's trombone on the traditional Haul Away Joe, the primitive power and connection of both concepts is obvious. When two saxophones flutter tonguing and flurries of cornet and trombone breaths are coupled with tremolo throbs, other Ayler lines such as Dancing Flower and Heavenly Home conjure up images of the late saxophonist dancing a sailor's hornpipe. A similar transformation is evident with the sea shanties. Like pieces of rural furniture which can become condominium showpieces, ditties such as Black Ball Line and Haul on the Bowline pick up unexpected contemporary cadences. The former matches Lederer's commanding vibrations with staccato overblowing from tenor saxophonist Petr Cancura as percussion replicates a flotilla call to arms. Cornetist Kirk Knuffke's tongue pirouettes cunningly subvert the melody of the second shanty which speeds up to suggest a brass band blaring as it transverses the ship. Art Bailey's accordion splatters owe more to zydeco than zig-zag sailing; while Gary Lucas' bottleneck guitar runs help move Mary Larose's singing of Shallow Brown and other ditties from traditionally paced to frenetic. Like a melancholy air played during a burial at sea The Language of Resistance, composed by Lederer and played with maximum solemnity on soprano saxophone precedes Larose's recitation of The Seaman's Hymn which in its transmogrifying sentiments, creates a proper memorial for Ayler and classic seafaring while transforming their qualities into born-again music. Good music can make just about anything a source of inspiration.